Today is Chinese National Day (国庆节 Guóqìng Jié), the 72nd founding anniversary of the People's Republic of China!

As one of the longest holidays during the year and the best season for travelling, 国庆节 is also known as "Golden Week" (黄金周 Huángjīn Zhōu) in China.
In this post we will introduce something about Chinese National Day and Golden Week that you might not have known before!
Why is October 1st the Chinese National Day?

October 1st is the memorial day for the founding of the People's Republic of China. PRC was actually founded on September 21st in 1949. The grand ceremony held at Tian'anmen Square on October 1st in 1949 was to celebrate the founding of the Central People's Government of the brand new country.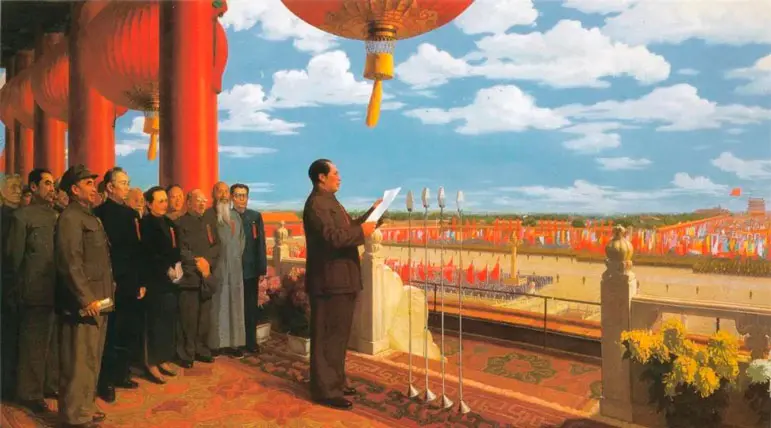 (On October 1st in 1949, Mao Zedong declared the founding of the People's Republic of China and its central government)
On October 2nd in 1949, the new government passed the "Resolution on the National Day of the PRC" and declared that October 1st of each year shall be 国庆节. Ever since 1950, every October 1st has been grandly celebrated by Chinese people. In addition, there is a National Day Parade to witness in front of Tian'anmen Square every 5 years.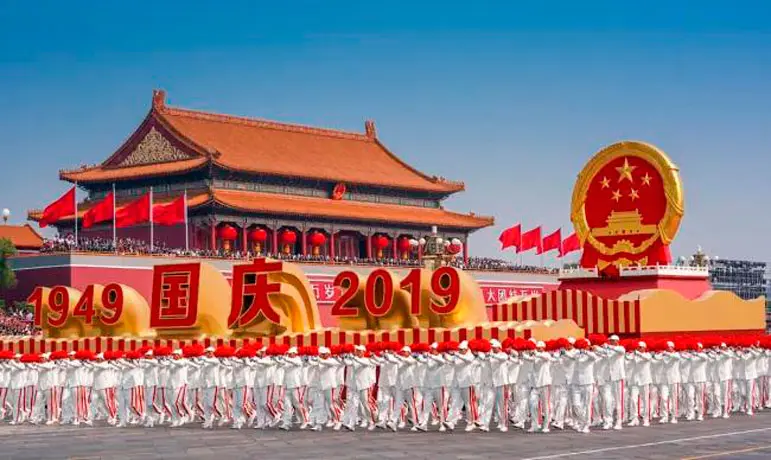 (A mass parade is underway to mark the 70th founding anniversary of the People's Republic of China in central Beijing on October 1, 2019)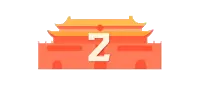 The origin of "Golden Week" (黄金周 Huángjīn Zhōu)


The name of "黄金周" appeared much later than 国庆节. The first "黄金周" - 7 days' holiday - was actually in 1999. Chinese government tried to use this week to encourage tourism thus to boost domestic economy.
When the first "黄金周" came in 1999, the number of travelers nationwide reached 28 million in 7 days and the comprehensive income of tourism reached ¥14.1 billion. After 20 years, in 2019, there were 782 million domestic tourists travelling during "黄金周", achieving domestic tourism revenue of ¥649.71 billion.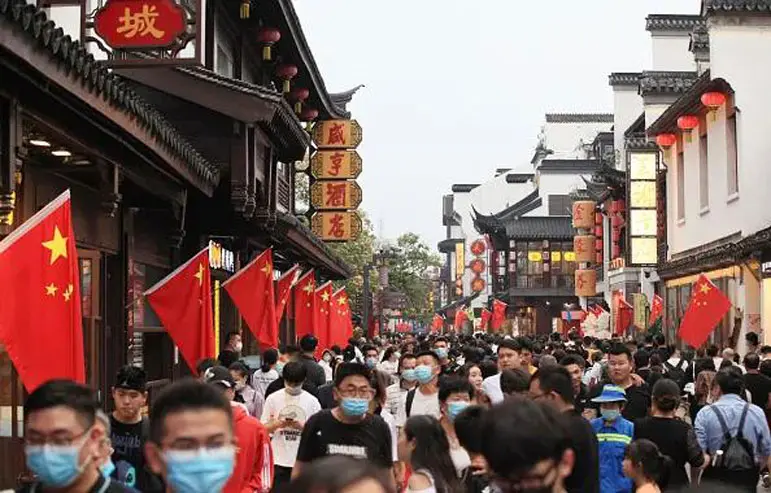 (2020's mass of tourists in Golden Week after Covid-19 Pandemic)

Based on 抖音Douyin (Chinese version of TikTok)'s Big Data Report of National Day in 2020, Shanghai is the most popular traveling destination, followed by Chongqing, Shenzhen, Guangzhou and Suzhou.

Are you also one of the mass of tourists right now?
The Chinese National Flag
"The Five Starred Red Flag" (五星红旗 Wǔ Xīng Hóng Qí)
You can see numbers of 五星红旗 everywhere during the National Day Holiday. Do you know why was this pattern selected to be the National Flag?

In this flag, red is the symbol of revolution and yellow represents the light of revolution. The five stars and their relationships to each other represent the unity of Chinese people under the leadership of the Chinese Communist Party.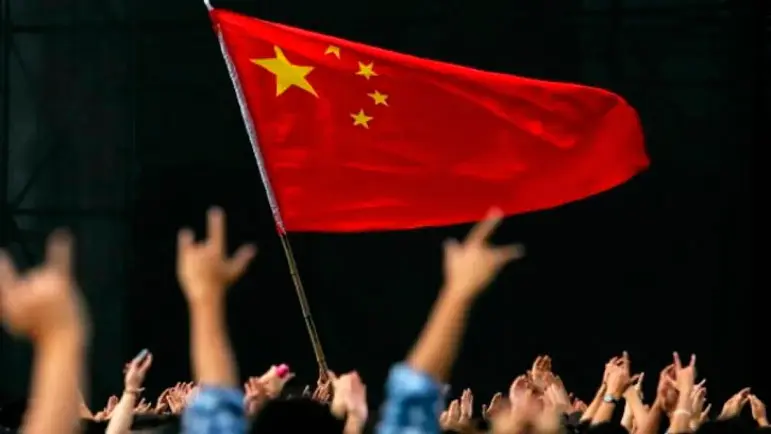 (五星红旗 is flown during a rock-and-roll festival to mark Chinese National Day on October 2, 2005, in Beijing, China)
The designer of 五星红旗 is a normal financial worker in Shanghai called 曾联松 (Zēng Liánsōng). In July 1949, a call for Chinese National Flag design was issued. Out of 2992 submitted flag designs, Zeng's design was selected in the end.


At the Founding Ceremony on October 1st 1949, 毛泽东 (Máo Zédōng) pressed the button and raised the first 五星红旗 in Tian'anmen Square.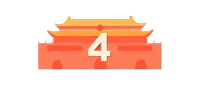 10 interesting facts about China
1. One in every five people in the world is Chinese.
2. China is the world's most populous country and the second-largest country by land area.
3. One-third of the population of China can't speak mandarin.
4. China is the largest consumer of red wine in the world.
5. Fortune cookie is not really a Chinese custom. It was invented in USA.
6. Toilet paper was invented in China in the late 1300s. It was for emperors only.
7. Put all of China's railway lines together, it can loop around the earth two times!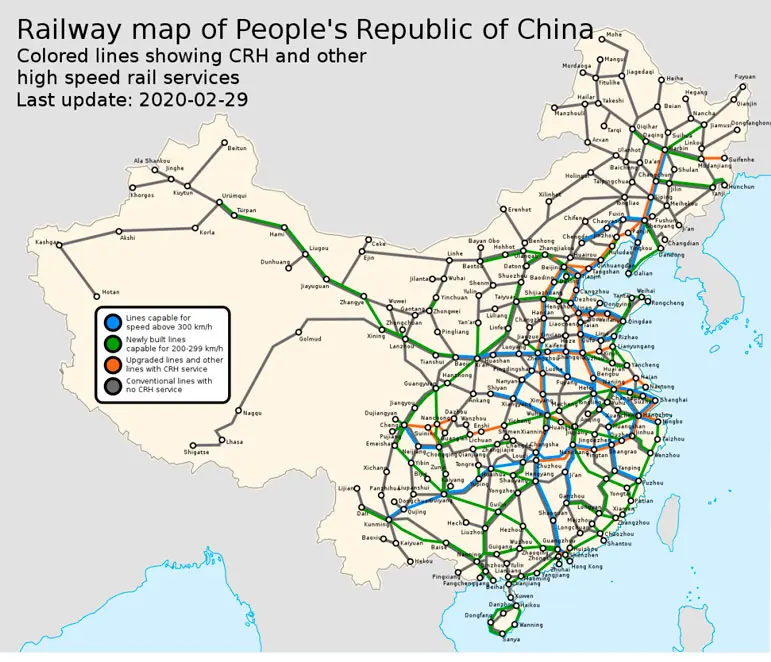 (One of the greatest achievements of China's infrastructure building of last 10 years)

8. Chopsticks were originally used for cooking instead of eating.
9. Ice cream was invented in China about 4000 years ago. It combines rice, milk and snow.
10. Ancient Chinese people created the world's first soccer ball made of leather. It was called "蹴鞠" (cùjū).
That's all for today. We hope this post can help you know a bit more about China and make your stay here more enjoyable!
All in all, enjoy this beautiful Golden Week! 黄金周快乐! Huángjīn Zhōu Kuàilè!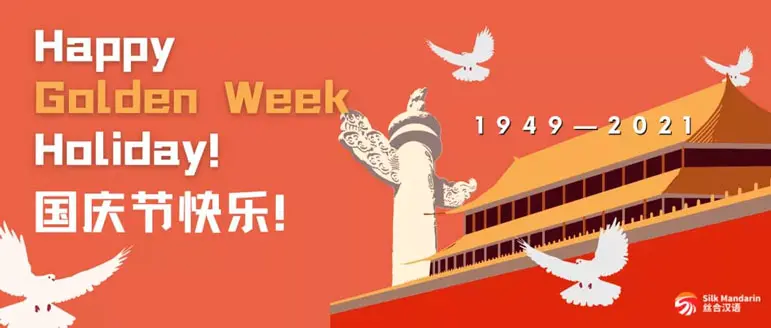 (All the pictures are from the Internet)